All Types of Mesh Balustrade Panels
Ensafe mesh balustrade is constructed from non corrosive stainless steel cables which are stretched and pre-installed on quality welded tubular frame. With simple but durable structure, Ensafe is preferred to all types of balustrade applications from residential, semi-public to public spaces. Typically applications for Ensafe mesh balustrade are bridges, path, stairs and balcony as shown in the following pictures:
Bridge balustrade
Protect vehicles and pedestrians from falling into the river.
Path balustrade
Anti-climb balustrades minimize potential falling dangers.
Stair balustrade
High safety stair balustrade without affecting air and light to enter.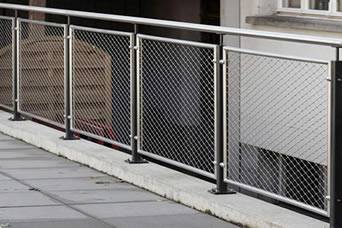 Balcony balustrade
Elegant balcony balustrade without blocking your sight.
Six reasons of choosing Ensafe
High safety
The holes of infill mesh is too small to let a foot in, let along get stuck. Thus, they are extremely climb resistant. Meanwhile, it displays high strength, strong toughness, three-dimensional stability and impact resistance as well as provides excellent fall protection to your family and pedestrians.
High flexibility
Ensafe is soft to touch and resilient to absorb the impact energy and spring back into original shape without damages. Additionally, mesh balustrade is flexible in design and construction to meet different needs of new-build and retrofit projects.
Allow excellent air circulation
Stainless steel mesh balustrade is extremely transparent without blocking your sight, meanwhile, it features diamond holes that permit large open area for letting light and air pass through freely.
Anti-corrosion & maintenance free
The most significant corrosion resistance is realized on its anti-corrosive material - AISI 316. Thereby, it suits both indoor and outdoor balustrade applications and last for years, even in the harshest conditions, without compromising its performance and appearance. Meanwhile, they are totally maintenance free so that periodically cleaning is not needed.
Lightweight & easy installation
Mesh balustrades are light in weight for easy transportation. In addition, Ensafe is easy to be mounted to posts, floor, wall, handrail and timer columns, etc.
Environmental friendly
Environmental friendly material will not release toxic gases thus it is safe to human and surrounding plants.
Details:
Panel length: up to 78-3/4".
Panel height: 28", 33", 37-1/2" or other custom height.
Panel shape: rectangular and rhombic frame with an angle of 29° to 37°.
Mesh style: knotted cable mesh, ferrule cable mesh or square cable mesh.
Mesh size: 60 mm or 80 mm.
Cable material: high quality stainless steel cable.
Cable construction: 7 × 7.
Cable diameter: 1.5 mm or 2 mm.
Frame material: welded galvanized steel or AISI 316 stainless steel tubular frame.
Frame diameter: 17.2 mm to 26.9 mm.
Frame wall thickness: 2 mm.
Top specification:
Rectangular stainless steel mesh balustrade
Rhombic stainless steel mesh balustrade
Top specifications of stainless steel balustrade
Code
Rope diameter (mm)
Mesh size (mm)
Panel height (mm)
MBRE-1
1.5
60
720, 840, 960
MBRE-2
1.5
80
720, 840, 960
MBRE-3
2.0
60
720, 840, 960
MBRE-4
2.0
80
720, 840, 960
All mesh balustrades can be manufactured and supplied to customer specification.
Inquiry for Our Product
When you contact us, please provide your detail requirements. That will help us give you a valid quotation.