Anti-theft Backpack Protector - Safe and Durable
Anti-theft backpack protector refers to an adjustable high tensile stainless steel cable locking device. As its name suggested, this protector is intended to cover and protect bags and backpacks from being tampered with, pilfered and stolen. Meanwhile, our range of anti-theft backpack protectors can be used to lock up your laptops or cameras when you are out for the day and leave these things in the hotel room. Thus, it is high recommended for travelers, especially those carrying valuable electronics. And the following are the advantages of our products.
Advantages:
High quality material including AISI 304, 304L, 316, 316L or other material based on your requirements.
Various sizes to fit almost types of backpacks, bags, soft-sided wheeled luggage and duffel bags, etc.
Easy to be locked to bed frame, radiator pipe or other removable objects.
Strong stainless steel cable is not easy to be cut and forms a layer of deterrent to the thief.
Flexible structure and smooth surface make it soft to touch without hurting your hand.
Light in weight but with high strength and high load capacity.
Long lifespan more than 30 years owing to its excellent resistance to corrosion and environment.
Anti-theft backpack protector is manufactured from high quality stainless steel cable with ferrules and smart lock system, which make the protector extremely convenient to operate.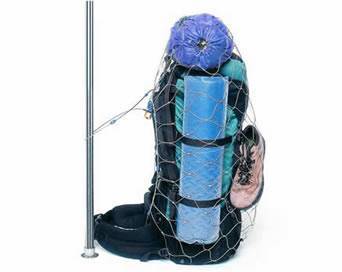 Fixed to a removable objects, such as a handrail, anti-theft backpack protector effectively prevents your prized bags from being tampered with, pilfered and stolen.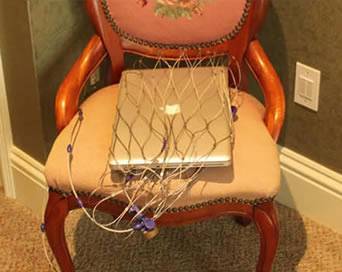 Backpack protector also performs well in protecting your prized laptop from being stolen by locking this protector to a large or removable objects, such as a wooden chair.
The whole body of a gray soft-sided wheeled luggage is bundled up by a stainless steel large-sized backpack protector for tampering and theft prevention.
Specification of anti-theft backpack protector
Code
Product dimension
ATBP-1
2' × 5.5' × 4'
ATBP-2
2' × 7.5' × 4.7'
ATBP-3
6' × 4' × 2'
ATBP-4
13' × 9' × 4'
Note: Any custom size is available upon request.
Inquiry for Our Product
When you contact us, please provide your detail requirements. That will help us give you a valid quotation.